Top 5 Treks Within 2 Hours of Spokane
One of Spokane's longtime slogans is "Near Nature – Near Perfect." And it's a phrase that's hard to argue with.
Roaring rivers and waterfalls, scenic vistas, and loads of other geologic miracles call eastern Washington home. The best part? Washington's State's history of being at the forefront of conservation and ecological preservation efforts means all that beauty is easily accessible and maintained during the outdoor season.
The first step in venturing to any of these places is going to be getting an annual Discover Pass. It's more or less a glorified parking pass, but it's still a necessity for not only gaining access to some of eastern Washington's natural beauty, but equally important to the State's conservation efforts. Washington State's Legislature created the Discover Pass in 2011 to help fund its Department of Fish and Wildlife, and Department of Natural Resources. The pass itself costs $30 per year, a small price to pay for unlimited access to:
More than 100 State parks
Nearly 700 water-access points
Nearly 2,000 miles of designated water and land recreation trails
More than 80 natural areas
More than 30 wildlife areas
Once you've obtained your Discover Pass, the Evergreen State truly becomes your oyster, including these 5 great treks within a couple hours of our office!
Mount Spokane State Park
Whereas some of these treks are impossible once the Spokane winter hits, Mount Spokane State Park's options correlate with its 300+ inches of average annual snowfall. The park's hiking and horse riding trails become excellent snowshoeing escapes come winter, and of course there's Mt. Spokane Ski & Snowboard Park. If winter sports are more your thing, there you'll find slopes of varying difficulty, night skiing, tubing, and some seriously cozy lodging as well.
Rocks of Sharon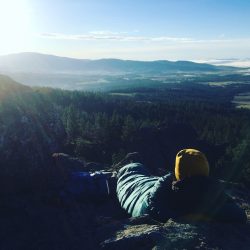 Not even 10 minutes outside of Spokane city limits, The Dishman Hills Conservation Area is the perfect afternoon getaway. More than five miles of looped trails circumnavigate brilliant natural features such as The Enchanted Ravine, and the park's crown jewel: Rocks of Sharon. Sharon's Rocks (especially her biggest – "Big Rock") aren't just pretty to look at. They're laden with some of the best sport climbing routes in the area. Multiple Even if you're not a rock climber, Big Rock and its amazing views are still accessible via a route that isn't too dicey of a scramble.
Palouse Falls State Park

Only a couple hours drive to the South, the great plains of the Palouse house one of the PNW's greatest geological marvels. Starting from the small town of Washtucna, a quick jog up a gravel road yields something you have to see with your own eyes to truly appreciate.
10,000 years of ice floods gradually carved a massive basalt gorge where the Palouse and Snake Rivers converge and ultimately spill out into one of the best views in the country, especially when you take the steep trek up to Fryxell Overlook.
You can get an optimized view of the 200+ foot waterfall by stopping at any of the three viewpoints along Palouse Falls State Park's short (yet steep) hiking trails.
Riverside State Park

Once a historically significant place for Native American tribes to gather, Riverside State Park is now the gathering place for outdoor enthusiasts of all sorts. Less than 10 miles from downtown Spokane, Riverside State Park is actually the 2nd biggest state park in Washington. Its 55 miles of trails and facilities crisscross both the Spokane River and it's conveniently named sister stream, the Little Spokane River.
Riverside State Park's vast expanse offers ample accommodations for:
Mountain Biking
Hiking
25 miles of Equestrian trails, obstacle courses, and a 60" round pen
600 acres of special terrain designated for off-road vehicles
Boating/Water sports
Angling
Day-use areas
Picnic Shelters
4 separate campgrounds
Liberty Lake Loop
A common answer to a Monday's "Did you do anything fun over the weekend?" around our office mentions the Liberty Lake Loop in some capacity. This gorgeous hike circles–you guessed it–Liberty Lake, and does so for about 8 miles. All 8 of which are well-maintained and are where views abound. About 2.5 miles in, you can find a great turnaround point, or you can take the switchbacks through some densely forested area to Liberty Creek Falls–a quiet and seemingly mystic waterfall that you should see at least once. You'll be glad you did!
The loop itself only has a moderate elevation change, making it a great destination for training for any of your personal running endeavors. If you got doggos, make sure to bring 'em!