Winter is Coming to Spokane!
November 23, 2020 7:59 pm
Spokane's weather can be a little moody– and that's part of the charm. That being said, the area's most manic season has to be our five-month winter. But hey, it's those winter months that we have to thank for our scenic river's falls and just about everything else of beauty in this ecosystem, so it's worth putting up with, and then some!
If you're thinking about moving to Spokane for one of our many high-paying tech jobs, there's a few things that you should know if you've never lived in a place with a harsher winter climate. Now don't be alarmed… it's not the North Pole after all, but living in Spokane does dictate a few preparations and slight lifestyle changes to match the seasons. So without further ado, here are a few things it would be useful to know before moving to this part of the Inland Northwest.
Spokane Climate
The Spokane-Coeur d'Alene Metropolitan Area is situated in what is known as a "dry summer continental climate" but don't let that moniker fool you. Our winters are anything but dry. Being nestled in between the Cascades and the Rockies means that Spokane is shielded from the drastic rainfall of the Pacific Coast, and the bitter cold front-blizzards of Montana respectively. However, this means there is a little bit of both, especially during the winter seasons.
As copy & pasted from the National Oceanic and Atmospheric Administration's website, (Damn it, Jim! I'm a tech writer, not a meteorologist!) Spokane averages approximately 34 snowy days per year, and an annual snowfall accumulation of almost 4 feet. Fret not—it's not all at once, and it's often washed away by sporadic days of rain on days above freezing. However, it is probable to have a night or two of extreme snowfall every winter that results in 5+ inches or more in a single day. This usually mandates some school closures and tends to back up roadways as they are being plowed.
Spokane Winter Clothing
Some winter clothing are must-haves around here, and if you're coming from a sunny southern state, it's probable that you've never owned some of the essentials. Most importantly, don't buy anything before you move, you'll find ample options in all stores once you get here. Because of our area's large demand for winter clothing you'll find options across all price points and you won't have to be gouged by online mark-ups. Just because everyone around here seems to wear Patagonia and Northface down jackets, doesn't mean you have to. There are tons of cheaper options.
The Necessities
One word: Layers. The best way to go from out-and-about to even being comfy in your own house is to wear multiple layers and shed or apply them as needed.
Some great options include:
Thermal anything (undershirts, long-sleeves, hell even undies)
Quarter-zip pullovers (preferably fleece)
Hoodies (make sure to buy an extra for your s/o to steal)
Puffy Vests (pretty sure they come with a PBR tallboy and an infatuation for Mumford & Sons)
Insulated Winter Coat (tried and true, sometimes just a T-shirt and a coat is your best bet)
Accessories
If you're traveling from building to building, or just to and from your car, a lot of these things are just add-ons, but they're still great to have.
Gloves (Great for until your car warms up, or leaving the scene of the crime without a trace)
Beanie (Y'know the ones with a poofy-ball on top? Carhart brand also come with a PBR tallboy, I think)
Boots! (Not necessary unless you're really trekking through it, but they're nice to have, even if just for shoveling your driveway and such)
Driving in Spokane Winter
Yup, you'll quickly find out after moving here that most Spokane Natives have larger, AWD or four wheel drive vehicles. In all honesty, the winters here aren't harsh enough to demand that you need an SUV, but it does help. You should be able to get around reliably in your Prius, or other smaller cars on most days. If you do have a vehicle that is less tractionally-inclined, you can always get studded winter tires that usually do the trick, you can find more information about them (and when you're allowed to use them) here. Unlucky enough to have RWD? A few sandbags in your trunk or truck bed can help keep you from fishtailing.
When it comes to driving in the snow, the best way to do it is perhaps most aptly articulated by a picture I once saw on Twitter that displayed a tip, itself initially posted to Twitter (hence known as a "tweetception:"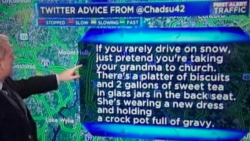 Unfortunately, operating your own car safely in the winter will only get you so far, and on harsher days, that can be not very far at all. Luckily, the Spokane Transit Authority is pretty good at keeping the roads clear with round-the clock plows and tons of deicing (yes, that's a word) agents applied liberally, perhaps too much so. The salt used on the roads can be damaging to your car's paint job, so it's a good idea to get it washed a couple times during the winter months.
Spokane Winter Recreation
Although it may seems like this blog is highlighting how much of a drag Spokane's winter months can be, the winter wonderland does offer something besides moans and groans.
Skiing + Snowboarding
Spokane has tons of options for people that love extreme winter sports, and even if that's not your thing, the resorts are mountains have are all adorned with hot cocoa-cozy amenities that make a weekend getaway fun even if you're not partaking in the powder. Some slopes nearby include:
Mt. Spokane Ski Resort

Silver Mountain Resort

49 Degrees North Mountain Resort

Schweitzer Mountain Resort

Lookout Pass Ski & Recreation Area
Sledding
Spokane has tons of hilly parks, and with that come tons of opportunities for for some killer sledding. Every winter people of all ages clamor to parks like Manito and Cliff parks and develop sledding hills. You can even pick up a cheap saucer sled from a department store this time a year for as little as five bucks!
Ice Skating
The downtown ice ribbon just opened for business last year, and it's only a stone's throw from the office. There's also Eagles Ice Arena in northern Spokane, and both venues offer snacks and equipment rentals.
Love ice hockey? Spokane has its own beloved WHL league team, The Spokane Chiefs that play during the winter. They're one of the league's most heralded teams, and every home game is packed and tons of fun! Plus tickets are very reasonably priced.
All in all, the Spokane winter isn't really that bad, no matter how contrasting it may seem to the country's warmer climates. It's not a scene out of Fargo or The Polar Express. Essentially, the winter is what you make of it, and if anything it will make you appreciate the beautiful springs, summers, and autumns all the more.
JOB OPENINGS